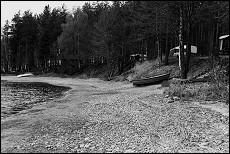 Old banks of Lake Saimaa in Korosniemi, Ruokolahti
Picture South Karelian Museum/ Minna Kähtävä-Marttinen

Quite a bit is known about the phases of Lake Saimaa from the Ice Age to the birth of the Vuoksi outlet channel at Imatra. The water level of the Saimaa has fluctuated almost fifteen metres over time, from the situation right after the ice melted to the flood crest of the Greater Saimaa lake basin when the Vuoksi broke through the Salpausselkä ridge some 6000 years ago (3800 B.C.).

South Karelia was inhabited all during the formative period of the Saimaa basin, but when the land rose, the waters that flooded the Salpausselkä ridge also buried the mesolithic and early neolithic dwelling sites underwater. The floodwaters abated once the River Vuoksi burst open an outlet channel through the Salpausselkä ridge during the Typical Combed Ware Period. With the channel opened, the waters of the Saimaa dropped 2 - 3 metres and the old embankment, the highest shore of the Greater Saimaa, was left dry. On it lie most of the Stone-Age dwelling sites of South Karelia. The bank can still be clearly distinguished from the terrain.